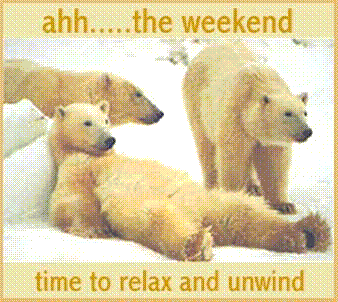 I have exactly 20 minutes left and I am out of this fluorescent lighted hell and home to my hubby. I am so looking forward to a nice weekend, since last weekend ended so terribly.
It has been a long crazy week here at work, and I am going to hit the door running. Literally...lol.
Hubby and I have some errands to run after work, then I am going home to clean up and we are going for dinner and a couple of drinks. There is an old time bar in town that once used to be a favorite stomping ground of mine and hubbys, but eventually over the years, business begin to decline and the owner eventually sold it. The new owners favored a different race and type of music, so hubby and I didn't go back, because we were out of our element. Now, there is another new owner and they are having a up and coming country artist playing there tonight...so, after dinner we are going to go check him out. Hopefully, it will be a fun time.
The kiddos are gone...Aaron to his Dad's and Max to Grandma and Grandpas. So, hubby and I should be able to reconnect with one another, which we are in desperate need of.
Tomorrow, I plan on another long run, some housework, a trip to the gym for a weight sesh..and then tomorrow night, hubby and I are going for a night out in Indianapolis. Sunday, I don't know...maybe another run....and the rest of the day trying to catch up on all of my magazine reading...seriously, I have such a magazine addiction and I have subscriptions to a lot...and they have begun to pile up on my nightstand. I should seriously take a picture and post it on here...it is unreal.
So..that's it in a nutshell. Maybe I can remember to take my camera and take some pictures of the shenanigans hubby and I may or may not get into...lol.
Have a great weekend everyone!